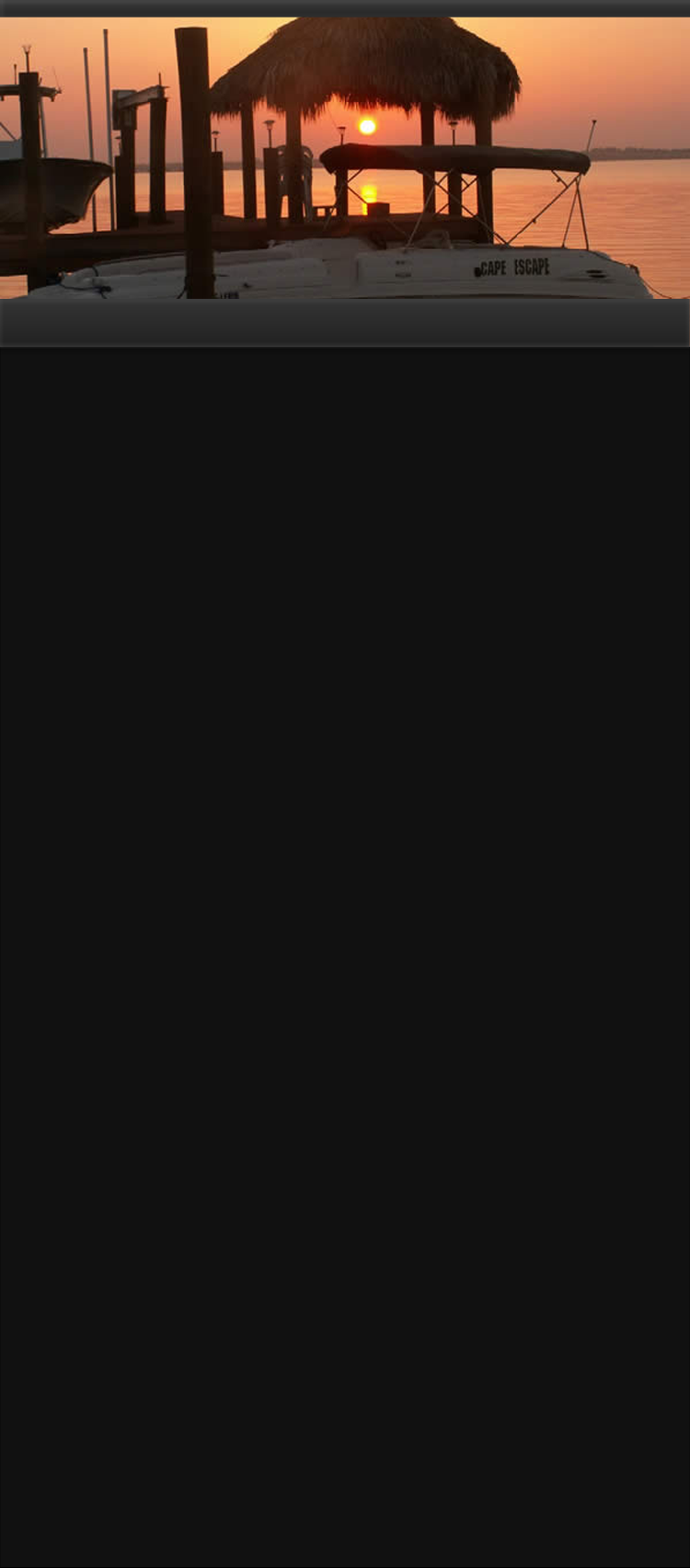 Notice
Cape Escape Boat Rentals does not rent out boats any longer and says
"Thank You" to all customers. We do not say good-bye:
If you are interested in renting a luxury vacation home in Cape Coral, please call us or check out the websites www.Caribbean-Island-Cape-Coral.com and www.CapeCoralRentalHouses.com and
contact us over the websites.
–----------------------------------------------------------
Hinweis
Cape Escape Boat Rentals vermietet keine Boote mehr. Wir bedanken uns bei allen Kunden für Ihre Treue.
Wenn Sie ein Luxusferienhaus in Cape Coral suchen, rufen Sie uns gerne an oder besuchen Sie die Webseiten www.Caribbean-Island-Cape-Coral.com und www.CapeCoralRentalHouses.com


Wir, Cape Escape Boat Rental, sind eine Bootsvermietung in Cape Coral bei Fort Meyers, Florida. Wir vermieten gut gepflegte und versicherte Boote an Urlaubsgäste in Cape Coral, die von Ihrem Ferienhaus aus mit einem Mietboot die wunderschöne Umgebung und einen Teil des Golfes von Mexiko entdecken möchten.
Service wird bei unser Bootsvermietung in Cape Coral groß geschrieben. Wir bieten obligatorisch eine sehr ausführliche Bootseinweisung. Selbstverständlich wird auch das An- und Ablegen ausgiebig trainiert. Falls an Ihrem Ferienhaus in Cape Coral ein Bootslift zur Benutzung zur Verfügung steht, wird auch das Andoggen und Ablegen daran geübt. Die Einweisung und das Training wird fachmännisch von unseren allen bestens ausgebildeten und zertifizierten Captains durchgeführt.
Hier wird nicht nur einfach ein Boot vermietet, sondern wir bieten außerdem den Service, unseren Gästen das Boot mit Bootsführer anbieten zu können. Dies macht zum Beispiel Sinn, wenn Sie mit der Gegend um Cape Coral - und somit auf dem Intracoastal Waterway -, dem Golf von Mexiko, Sanibel und Captiva Island sowie Pine Island nicht vertraut sind oder wenn Sie es vorziehen, etwas weitere Bootsausflüge bishin nach Cayo Costa oder Gasparilla Island unter orts- und sachkundiger Bootsführung, ungestresst zu genießen. Unsere Kunden haben Spaß am Boot fahren!
Unsere Bootsvermietung Cape Escape Boat Rental bietet auch begleitete Bootsfahrten bei Dämmerung / Dunkelheit, z.B. zum Abendessen mit dem Boot nach Fort Myers an. Die Bootsvermietung empfiehlt dringend die Buchung des Bootsführers wenn Sie keine Bootserfahrung haben und sich mit der Bemarkung der Gewässer nicht auskennen.
Unsere Kunden benötigen keinen Bootsführerschein, sondern lediglich einen gültigen KFZ-Führerschein, der bei der Bootsübergabe vorgezeigt werden muss.
Wir bitten um Verständnis, dass wir zu Ihrer eigenen Sicherheit keine unversicherbaren Extras wie Wasserski und Tubes (ziehbare Schwimmreifen) aller Art anbieten. Unserer Kenntnis nach versichert keine Versicherung solche Dinge in Verbindung mit Mietbooten.
We, Cape Escape Boat Rental, offer boat rentals in Cape Coral close to Fort Meyers, Florida. We provide nice and clean well maintained and properly insured boats to vacationers staying in a vacation rental home in Cape Coral. We rent out boats to guests who intend to experiencing the nice location and a part of Gulf of Mexico by boat.
Service is the main target of our boat rental company in Cape Coral. We offer an extensive boat introduction and instruction which is mandatory. It is carried out from our one of our captains. All our captains a certified captains and very familiar with the area. You will get a full instruction and will train how to dock the boat. If a boat lift can be used at your vacation rental home in Cape Coral you get trained how to get the boat in and out as well.
We do not just rent a boat, we have the additional service to offer the boat with a guide. This makes sense, if guests are not familiar with the Cape Coral area - including Intracoastal Waterway -, the Gulf of Mexico, Sanibel and Captiva Island as well as Pine Island or if you prefer to make extended boat rides up to Cayo Costa or Gasparilla Island with someone who knows the area pretty good and who is also a professional boat guide. Ride the boat without any stress! Our customers (should) enjoy their boat rides!
Our boat rental company Cape Escape Boat Rental offers guided boat rides during sunset / in the darkness, e.g. to enjoy the sundown or to ride to dinner by boat to Ft. Myers. Our boat rental company recommends to book a guide if you are not experienced in boating and / or you have no experience about water signs.
Our customers do not need a boat license, only a valid drivers license is required and has to be shown to the instructor before you get the boat.
Sorry we do not offer any water skies, tubes, wake boards, knee boards or any other device as the use of any device cannot be insured by our insurance. To our knowledge no insurance for rental boats allows towing of any device at all. This is for your own safety.